OLG LEVERAGES ROBUST LOTTERY TERMINAL NETWORK
TO KEEP ONTARIANS INFORMED
OLG LEVERAGES ROBUST LOTTERY TERMINAL NETWORK
TO KEEP ONTARIANS INFORMED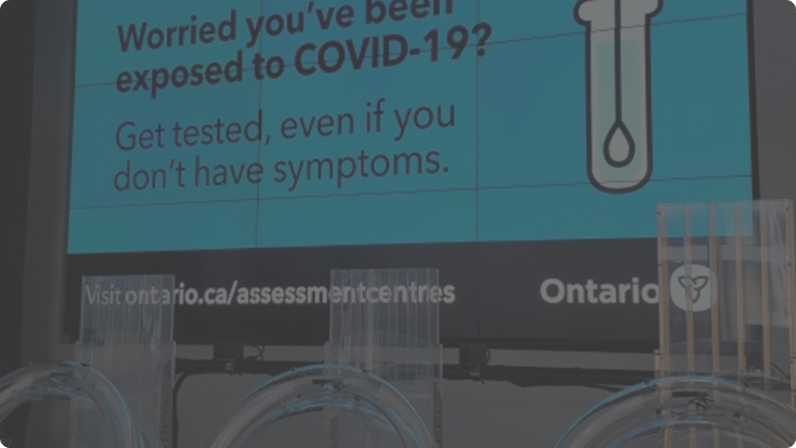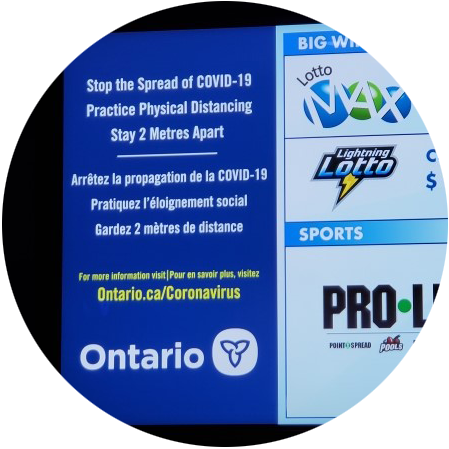 When the world was changing fast and furiously in March 2020, the Ontario government was investigating every available avenue to communicate important public health information. OLG answered the call, offering its network of 10,000 lottery terminals to display video messaging about social distancing and COVID-19 testing in essential retail outlets across Ontario.
The thousands of Customer Display Units and Digital Menu Boards across the retail network now display the web address for the province's COVID-19 page where the most up-to-date information can be found and can be updated to share emerging priorities as needed.
This isn't the first instance of OLG using its lottery terminals and digital menu boards to amplify vital public awareness efforts across the province. Ontario was the first Canadian province to provide its lottery terminals to share AMBER Alerts and OLG has proudly supported the program that protects child safety since 2005.
"Ontarians expect us to contribute in ways that benefit individuals, communities and our society overall. "
When an AMBER Alert is issued by Ontario Provincial Police, the Alert information is broadcast across the terminal network in convenience, grocery and drug stores, gas stations at news stands and mall kiosks. Whether people play lotteries or not, they take notice of information displayed on lottery screens and displaying AMBER Alert information in the busy places Ontarians visit every day so they can become informed and vigilant if a child has been abducted could help to save a life.
OLG contributes to the Province and people of Ontario by providing revenue to the government, our host communities and local charities. However, giving back goes beyond our financial contribution alone. Ontarians expect us to contribute in ways that benefit individuals, communities and our society overall. Furthering the provincewide COVID-19 education and awareness campaign and sharing critical AMBER Alert information through our lottery terminal network when time is so valuable are just two examples of how we strive to be a socially responsible corporate citizen in all that we do.
CORPORATE SOCIAL RESPONSIBILITY REPORTS
OLG's Corporate Social Responsibility Report serves as a measure of OLG's efforts in a number of areas of social responsibility including: Responsible Gambling and efforts to educate players and address problem gambling; earning and keeping customers' trust; supporting employees' engagement in communities; strengthening communities; and, reducing OLG's impact on the environment. Our report has transitioned to a fully digital report that will be regularly updated to communicate key social responsibility developments as they occur. Our new report is easy to access and navigate, and it demonstrates OLG's ongoing commitment to social responsibility.