THE BIG SPIN INSTANT Game Fact Sheet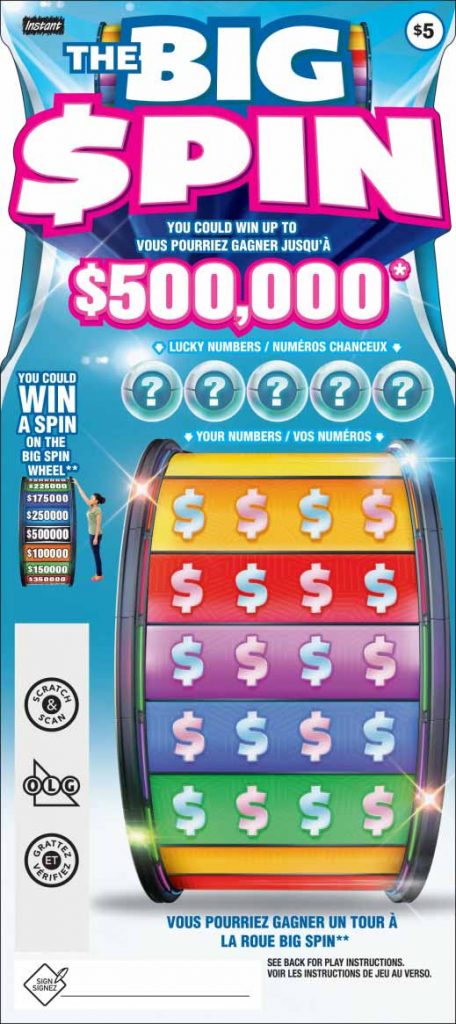 THE BIG SPIN is an innovative new $5 Ontario-only INSTANT Game that combines popular scratch play, an in-store winning experience on the lottery terminal screen and an in-person spin on The BIG SPIN Wheel at the OLG Prize Centre when a top prize – a BIG SPIN – is won.
THE BIG SPIN INSTANT game has three fun ways to win:
SCRATCH – To win an instant cash prize of $5 to $100,000 or a SPIN prize.
WATCH – If the prize won is SPIN, visit any OLG retail location to validate the ticket and watch the animated wheel spin on the lottery terminal screen. Every "SPIN" is a guaranteed win! SPIN prizes range from $10 to $10,000 or a BIG SPIN.
SPIN – If the animated wheel stops on "BIG SPIN," the prize won is an actual spin on The BIG SPIN Wheel at the OLG Prize Centre for a guaranteed prize of $100,000 to $500,000!
There are eight (8) BIG SPIN top prizes available in the game.
Odds of winning any prize with THE BIG SPIN are 1 in 3.98.
Odds of winning a BIG SPIN are 1 in 1,034,075.
THE BIG SPIN will be available at OLG retail locations beginning September 4, 2017.
THE BIG SPIN tickets can be checked on the ticket checker, by your lottery retailer or by using the OLG Lottery App.
For full details on THE BIG SPIN and complete odds of winning, go to olg.ca

or visit your lottery retailer.
Previous News
August 31, 2017
TAKE OLG'S NEWEST GAME FOR A SPIN: THE BIG SPIN!
Next News
August 16, 2017
OLG releases its fiscal 2015-16 Corporate Social Responsibility Report