HIT OR MISS is the new lottery game from OLG where players can win the top prize by matching all or none of the numbers on their ticket to those drawn.
For $2 per play, you could win prizes from a Free Play up to $250,000.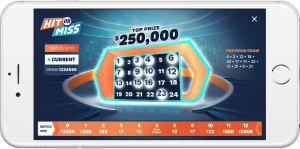 Approximately every five minutes, each day,12 winning numbers will be drawn from a field of 24. Match all 12 numbers, or match none at all to win the top prize of $250,000!
Watch the animated draws from anywhere, anytime with the OLG Lottery App or on ca.
The most recent version of the OLG Lottery App is required to view the HIT OR MISS draws. Scan your HIT OR MISS ticket using the app's ticket checker.
Odds of winning the $250,000 top prize are 1 in 1,352,078. Odds of winning any prize with HIT OR MISS are 1 in 2.2.
HIT OR MISS tickets can only be purchased and redeemed at an OLG lottery retailer.
Update to the newest version of the OLG Lottery App to view HIT OR MISS draws or check your tickets.
For full details on HIT OR MISS including How to Play instructions, the draw schedule and complete odds of winning, go to ca or visit your lottery retailer.
HIT OR MISS is available for purchase beginning January 9, 2018 with the first draw taking place at 7 a.m.
Responsible Gambling is an essential part of OLG's organizational culture and is integrated into the overall business strategy, products, and operations to help develop healthy play habits and create a positive player experience. For facts, tools and advice on gambling visit ca. HIT OR MISS incorporates several player protections including: a fixed $2 price point with no variable wagering or prizes, forced breaks with a maximum of 30 draw advance play, and easy access to PlaySmart information on all platforms that offer winning results.
Previous News
January 9, 2018
WIN A $250,000 JACKPOT BY MATCHING ALL OR NONE OF YOUR NUMBERS WITH THE NEW HIT OR MISS LOTTERY GAME
Next News
December 28, 2017
TICKET WORTH $1,000,000 UNCLAIMED IN WINDSOR